(This is a non-technical post, and is part of the #SQLNewBlogger Challenge.)
This year was my second PASS Summit, and my favourite one so far. Many of the data professionals in attendance with whom I spoke, feel the same way.
Aside from some spectacular keynote moments, not to mention the sessions I attended, I was struck on several occasions with how much like a family the SQL Server community is, and how awesome it is.
I would like to take you on a journey to the years of 1989 and 1990.
I was in my final year at Craighall Primary School in 1989, a school which had introduced me to Atari Logo and my love for computers beyond the CreatiVision console system my father had bought us in the early 1980s.
I would be going to Queen's College, an all-boys boarding school in Queenstown from 1990, in the Eastern Cape. It was an overnight train ride away from my family, where I would have to embark on a very different chapter of my life, make new friends, and "become a man" (thanks, dad).
Fast forward to 1990, and a fish out of water called Randolph. I only lasted 18 months.
There were highlights, though. I made lifelong friends with several boys there. And every so often while I was in Grade 8, we would be treated to a piano performance in our weekly assembly, by a Grade 12 boy called Ewald Cress. I remember how extraordinarily talented he was.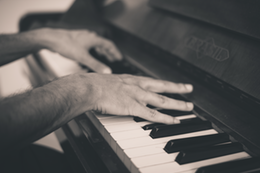 Despite some months of music lessons, my own musical aspirations never took off until 2014, when I joined the Calgary Men's Chorus in order to sing with them and other choirs at Carnegie Hall in New York.
Yes, it's as amazing as you think it would be.
But until this week, I had forgotten about Ewald Cress.
This week, I was attending a session at the PASS Summit by Glenn Berry, presenting his SQL Server Diagnostic Queries (which I use all the time with my clients).
During the break, I caught up with Lonny Niederstadt, one of the many incredible people from the community I've met on Twitter. We had our usual chit-chat that you'd expect from this sort of meeting, and then, like a cliché, he asked if I knew another South African he knew.
I do this too: I hear someone is from somewhere, and the pattern-matching algorithm in my head goes ping! I'll ask, "Oh, you're from Madison, Wisconsin? Do you know Janie Clayton?"
Anyway, he asked me if I knew a guy from the SQL Server community in the UK, who had also emigrated from South Africa. Statistically speaking, the chances of this are tiny. While the SQL Server community in South Africa might be relatively small, I only knew some of them from Johannesburg, who I'd met at the User Group meetings over five years ago.
I rolled my eyes internally, and then Lonny showed me Ewald Cress's Twitter profile.
This was turning out to be a week of wild coincidences.
I told Lonny that, not only did I know Ewald's name, but I went to school with him. In a rural town in 1990, where our paths crossed for a very short time.
Just over an hour later, I met up and chatted with Ewald for more than two hours, discovering many common interests.
I made a lot of new friends this week, and I think my favourite one was a person I've known for 25 years.
Thank you, PASS. Thank you, Lonny. Thank you, Ewald.